---
---
RAIDEN
---
---
Raiden is an optimistic, cheerful individual whose kind heart knows no limits. She will always extend a helping hand to anyone in need, even if others disagree. Though her agreeable demeanor may seem naïve, Raiden sees little reason to act in any other way. Raiden finds strength in being kind, and as long as she navigates each decision with good intentions, she's sure that everything else will see itself through.
It's been ten years since Raiden washed up on the shores of Ikoron. With no memories or home to go to, she was graciously taken in by the ruler of a neighboring kingdom. There, she resided in Castle Cieliso, serving as the princess' primary attendant. Between training with the Windknights and satisfying the curious princess' whims, Raiden doesn't really have the room to wonder about her past. Not that it bothers her, or anything.
It's been ten years since Raiden was resurrected from the dead through some dark miracle. With zero knoweldge of who she was before, she opted to choose kindness at every opportunity. Though it's not the most practical or advantageous route, she believes that this is the best course of action.
Most of the time, the lack of memories don't bother Raiden too much. She's seen countless instances of people being burdened and suffering because of their past experiences. But when she witnesses those with deep bonds to cherish, those with something meaningful and joyful that depend on having hung onto the past, she has the quiet realization that perhaps she is missing out on quite a bit. After all, what is a person other than their memories?
Raiden's entire existence is a mystery, but the greatest secret (one not even Raiden herself is privy to) is the purpose of the cuffs on her wrists. It seems to not affect Raiden's quality of life, but they're impossible for her to remove. A suspicious group known as Nox Noctis seems to be fixated on her and these cuffs.
---
---
RAIDEN
---
---
Height 5'1" (155cm)
Race Lumien ...Beastlord?!
Can't whistle - she doesn't understand the breathing part
Enjoys most types of food, but favors fruit

The cuffs on her wrists can't be removed

Though they cannot be removed, her cuffs can be broken if Raiden forces enough stored power towards them. Don't let this happen.
---
---
ARACELI
---
---
Aside from her inability to properly control her aspect, Araceli is the optimal heir to the Cielicano throne. She deeply embraces this, spending most of her days studying under an Elitecan tutor, training with the Windknights in both magic and swordplay, and aiding her parents with small administrative tasks. Araceli's on track to becoming a suitable ruler regardless of her glaring shortcoming, but it's all torn away when her home is attacked by a mysterious group. Now on the run for her own safety, Araceli is determined to travel the world of Luxos in search of a way to harness her own power and return to take back her kingdom.
---
---
ARACELI
---
---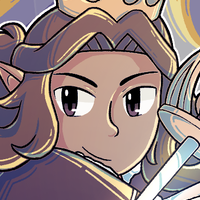 Height 5'4" (163cm)
Race Lumien
Particularly stylish
Cares deeply for her parents and the Castle Cieliso personnel
Bites her thumb as a nervous tick
---
---
SAFFRON
---
---
The second-born son of House Infiaco, Saffron, is met with a plethora of noble-related duties to his land - none of which involving becoming a ruler himself. Despite this, he strives to prove himself as a worthy successor to his family and people. It doesn't seem like anyone is entertaining his ambitions, though. Regardless, with his prized possession - a mysterious amulet - in hand, he embarks on a trip to San Ven to make arrangements for an alliance. Little does he know that a great journey awaits him...
---
---
SAFFRON
---
---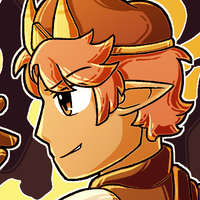 Height 5'7" (170cm)
Race Alcerian
Role:
Ranged supporting attacker
Greatly admires his brother, Raymond, despite any envy or annoyance he expresses towards him
Has difficulty keeping comments to himself, even at his own demise
Horrible with animals
---
---
COLE
---
---
Cole's reputation as the renegade first mate of arguably the most notorious band of sky pirates precedes her; few individuals are comfortable approaching her for any reason, and she prefers it that way. However, under all of that tough skin, Cole hides a tragic secret that floods her with guilt. When Raiden, Araceli and Saffron request a means of travel, Cole is forced to face this buried trauma head-on.
The level of detail Cole places in her cartography and the tendency to take the brunt of attacks during battle display in a shining light how much she cares for her allies. The guilt that once plagued her has gradually become replaced with trust and warmth. Sure, her new "crew" is horrbly inexperienced when it comes to adventure, but Cole knows that they can at least hold their own when they need to, and that's enough for her.
Cole is a morally questionable woman who really leans into the "solo pirate" occupation - earning her a cutthroat loner reputation. Once a member of the legendary Four Skulls, she abandoned her allies after a mission gone wrong that resulted in the loss of her former captain. In trying to uncover the truth behind the tragedy, Cole found herself tangled in a mess orchestrated by a party known as Nox Noctis. Now, her hands are tied, and she's given the simple task of messing with some royals and fetching a particular nobody.
Unfortunately for Cole, it seems like her ice-cold heart was warmed by her very targets. Sure, everyone's getting along swell, but the good times will only last so long - Cole knows that better than anyone else. After all, they don't call her the Shadow of the Skysea for making friends. No matter how much she cares for those green adventurers aboard her skycraft, she knows that it will all come to a close soon enough. It's better to close off those feelings before it's too late. After all, she's just doing her job - nothing more, nothing less.
---
---
COLE
---
---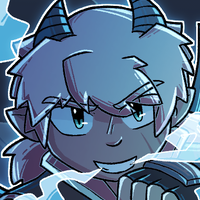 Height 4'11" (150cm)
Race Drascus
Will not attend a social event if there's no alcohol involved
Enjoys sketching out battle plans and travel routes
Real name is "Colwyn"
---
---
MARIANGELA
---
---
Mariangela embodies the Keeper role flawlessly, utilizing this fated purpose as a source of confidence. With the rising concerns of an unusual blight afflicting many of Umisuu's sea creatures with an inexplicable, chaotic rage, there's no time more opportune for Mariangela to prove herself than now.
---
---
MARIANGELA
---
---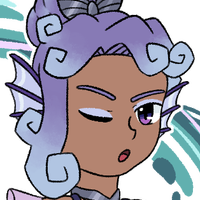 Height 5'6" (168cm)
Race Munkin
Role:
Recovery/Buff Support
Enjoys gossiping if it's in "good faith"
Is pointedly mean to people she considers "not worth her time" (mostly just Rhys)
Started learning to dance at two years old
---
---
RHYS
---
---
An abrasive, standoffish alcerian who has no interest in making allies, Rhys silently does the bare minimum for her Keeper role. Deep down, her reasons for near-total isolation are rooted in those very powers of hers. Unfortunately, her reign of seclusion will come to a close with the arrival of a skycraft boarded by strange adventurers seeking her company...
---
---
MARIANGELA
---
---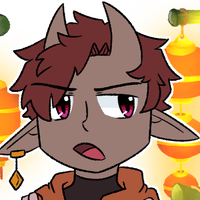 Height 5'8" (172cm)
Race Alcerian
Always wears an Aagni earring in her right ear
Has a very high tolerance for strong and spicy flavors
Despises ingenuity